Overview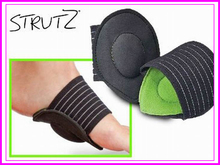 The plantar fascia is a thick, ligamentous connective tissue that runs from the heel bone to the ball of the foot. This strong and tight tissue helps maintain the arch of the foot. It is also one of the major transmitters of weight across the foot as you walk or run. Thus, tremendous stress is placed on the plantar fascia, often leading to plantar fasciitis- a stabbing or burning pain in the heel or arch of the foot. Plantar fasciitis is particularly common in runners. People who are overweight, women who are pregnant and those who wear shoes with inadequate support are also at a higher risk. Prolonged plantar fasciitis frequently leads to heel spurs, a hook of bone that can form on the heel bone. The heel spur itself is not thought to be the primary cause of
Heel Pain
, rather inflammation and irritation of the plantar fascia is thought to be the primary problem.
Causes
The most common cause of heel pain is plantar fasciitis. Plantar fasciitis is a stretching of the plantar fascia, a ligament that runs from the ball of foot through the arch and is attached to the heel. It is that attachment which becomes aggravated and typically causes pain after being on your feet for lengths of time. Abnormal motion of the foot (pronation) is one cause of plantar fasciitis. Heel spurs, which are abnormal bone growths coming off the heel, can also cause heel pain. Other causes include repetitive stress or shock to the heel, standing for prolonged periods or osteoarthritis.
Symptoms
Both heel pain and heel spurs are frequently associated with an inflammation of the long band of tissue that connects the heel and the ball of the foot. The inflammation of this arch area is called plantar fasciitis. The inflammation maybe aggravated by shoes that lack appropriate support and by the chronic irritation that sometimes accompanies an athletic lifestyle. Achilles Tendinopathy, Pain and inflammation of the tendon at the back of the heel that connects the calf muscle to the foot. Sever?s, Often found in children between the ages of 8 - 13 years and is an inflammation of the calcaneal epiphyseal plate (growth plate) in the back of the heel. Bursitis, An inflamed bursa is a small irritated sack of fluid at the back of the heel. Other types of heel pain include soft tissue growths, Haglunds deformity (bone enlargement at the back of the heel), bruises or stress fractures and possible nerve entrapment.
Diagnosis
After you have described your foot symptoms, your doctor will want to know more details about your pain, your medical history and lifestyle, including. Whether your pain is worse at specific times of the day or after specific activities. Any recent injury to the area. Your medical and orthopedic history, especially any history of diabetes, arthritis or injury to your foot or leg. Your age and occupation. Your recreational activities, including sports and exercise programs. The type of shoes you usually wear, how well they fit, and how frequently you buy a new pair. Your doctor will examine you, including. An evaluation of your gait. While you are barefoot, your doctor will ask you to stand still and to walk in order to evaluate how your foot moves as you walk. An examination of your feet. Your doctor may compare your feet for any differences between them. Then your doctor may examine your painful foot for signs of tenderness, swelling, discoloration, muscle weakness and decreased range of motion. A neurological examination. The nerves and muscles may be evaluated by checking strength, sensation and reflexes. In addition to examining you, your health care professional may want to examine your shoes. Signs of excessive wear in certain parts of a shoe can provide valuable clues to problems in the way you walk and poor bone alignment. Depending on the results of your physical examination, you may need foot X-rays or other diagnostic tests.
Non Surgical Treatment
If you develop heel pain, you can try several methods at home to ease your discomfort. For example rest as much as possible, apply ice to the heel for 10 to 15 minutes twice a day, use over-the-counter pain medications, wear shoes that fit properly, wear night splints, a special device that stretches the foot while you sleep, use heel cups or shoe inserts to reduce pain, If these home care strategies do not ease your pain, you will need to see your doctor. He or she will perform a physical exam and ask you about your symptoms and when they began. Your doctor may also take an
X-ray
to determine the cause of your heel pain. Once your doctor knows what is causing your pain, he or she will be able to provide you with the appropriate treatment. In many cases, your doctor may prescribe physical therapy. This can help to strengthen the muscles and tendons in your foot, which helps to prevent further injury. If your pain is severe, your doctor may provide you with anti-inflammatory medications. These medications can be injected into the foot or taken by mouth. Your doctor may also recommend that you support your foot as much as possible-either by taping the foot or by using special footwear devices. In very rare cases, your doctor may recommend surgery to correct the problem. However, heel surgery often requires a long recovery time and may not always relieve your foot pain.
Surgical Treatment
Although most patients with plantar fasciitis respond to non-surgical treatment, a small percentage of patients may require surgery. If, after several months of non-surgical treatment, you continue to have heel pain, surgery will be considered. Your foot and ankle surgeon will discuss the surgical options with you and determine which approach would be most beneficial for you. No matter what kind of treatment you undergo for plantar fasciitis, the underlying causes that led to this condition may remain. Therefore, you will need to continue with preventive measures. Wearing supportive shoes, stretching, and using custom orthotic devices are the mainstay of long-term treatment for plantar fasciitis.
Prevention
Being overweight can place excess pressure and strain on your feet, particularly on your heels. Losing weight, and maintaining a healthy weight by combining regular exercise with a healthy, balanced diet, can be beneficial for your feet. Wearing appropriate footwear is also important. Ideally, you should wear shoes with a low to moderate heel that supports and cushions your arches and heels. Avoid wearing shoes with no heels.